Print Options:
Aussie Avo Ale Braised Pulled Pork Tacos with Avocado Hot Sauce
Yields
6 Servings
Cook Time3 hrs 30 mins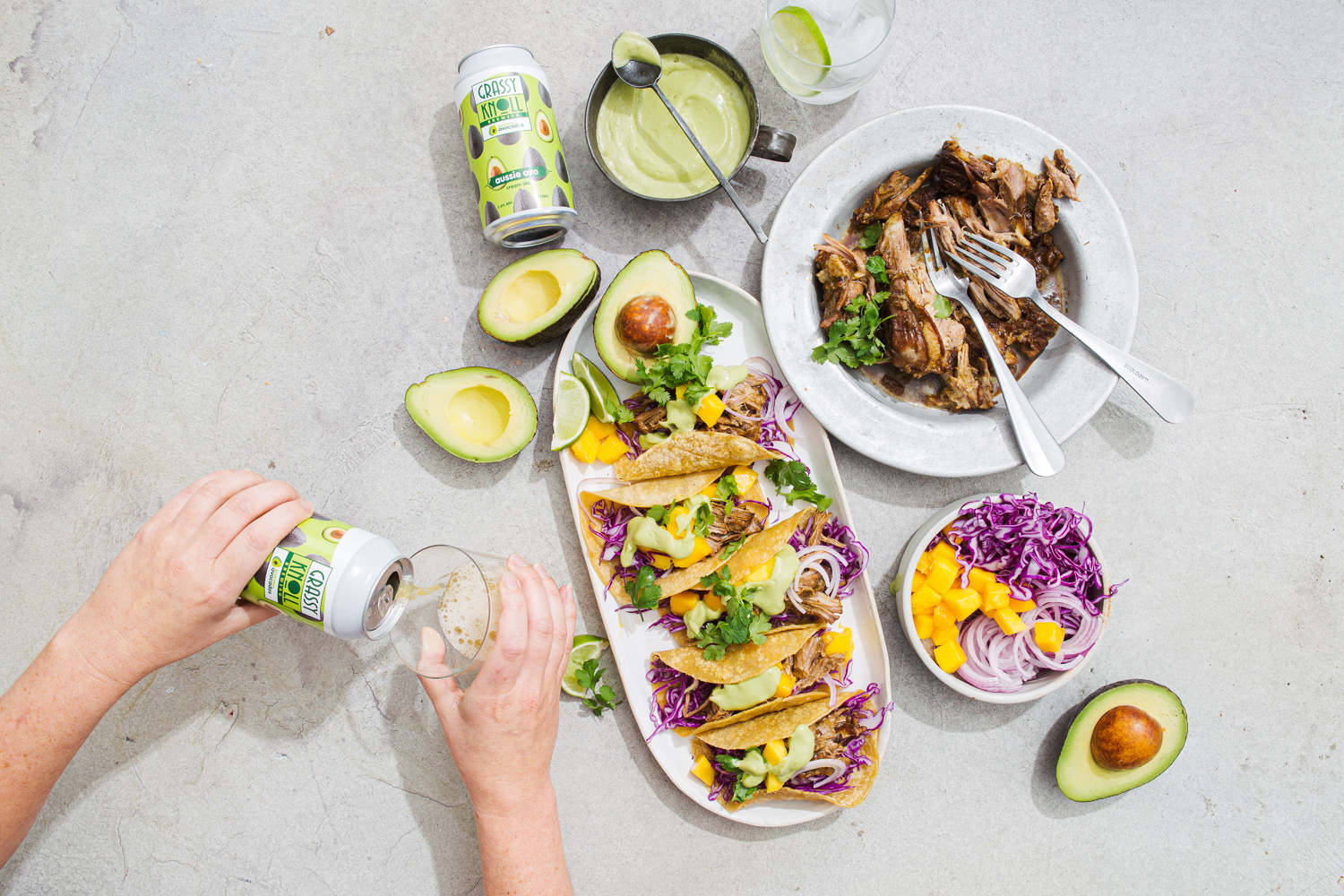 Aussie Avo Ale Braised Pulled Pork
1.50
kg
boneless pork shoulder, trimmed
2
tbsp
extra virgin olive oil
1
large brown onion, roughly chopped
375
ml
Grassy Knoll Aussie Avo Cream Ale
Avocado Hot Sauce
1
jalapeño pepper, stems removed, deseeded
1
habanero pepper, stems removed, deseeded
2
medium Australian Avocados
To serve
12
corn tortillas, warmed
¼
wedge purple cabbage, finely sliced
1
small red onion, finely sliced
1
large mango, flesh chopped into cubes
1
cup
coriander, roughly chopped
1
Preheat oven to 180C. Combine the brown sugar, cumin, paprika, salt and pepper in a small bowl. Rub the pork with this spice mixture, getting into crevices.
2
Heat the olive oil in a large flameproof casserole dish or ovenproof heavy-based saucepan over medium-high heat. Add the pork and cook, turning frequently, for 5-7 minutes or until browned all over. Transfer to a plate. Reduce heat to medium-low and add the onion and garlic and cook, stirring, for 3-4 minutes, until softened. Add the Aussie Avo Ale and stock and bring to a simmer, scraping the bottom of the pot with a spoon to release any bits stuck to the bottom. Add pork back to the pot. Cover with a lid and place into the oven for 3-4 hours until very tender.
3
Remove pork from the oven and roughly shred the meat. Place over medium heat on the stove top and cook, simmering for 20 minutes until sauce thickens.
4
Make the Avocado Hot Sauce by bringing a medium pot of water to the boil, add in the jalapeno and habanero. Boil for ten minutes. Use tongs to take them out and set aside to cool. Reserve the cooking water. To a blender, add the cooled chilli, avocado flesh, lime juice, garlic, olive oil and a dash of the chilli water. Blend on high until completely creamy, add more of the boiled chilli water until you reach the consistency you like.
5
Serve warmed corn tortillas with the shredded Aussie Avo Ale Pulled Pork, Avocado Hot Sauce, purple cabbage, mango, coriander and red onion. Serve with cold Avocado Beers.
If you can't find habanero or jalapeño peppers. Use 2-3 long green chillies, deseeded (or not) depending how hot you'd like your sauce.
For an alcohol-free version: Replace the beer in the Aussie Avo Ale Pulled Pork with 1 tablespoon of vinegar and 350ml extra beef stock.
Credits: Recipe: Hayden Quinn, Food: Hayden Quinn / Meg Yonson, Styling: Olivia Blackmore, Photo: Luisa Brimble
You can secure your Sunday session must-have, the Aussie Avo Ale, via the Grassy Knoll Brewery website from Monday, 23 November 2020: https://www.grassyknollbrewing.com.au/ Or at one of the following stockists: Bucket Boys, Marrickville, NSW Papi Dulce, WOLLONGONG, NSW Krafted Beer Festival, GOLD COAST, QLD Saccharomyces Bottle Shop, BRISBANE, QLD Cloud Wines South MELBOURNE, VIC
Nutrition Facts
Servings 0